The Buy-Sell Agreement: A financial safeguards for shareholders
Article Licenses: DL, LI
Advisor Licenses:

Compliant content provided by Adviceon® Media for educational purposes only.
---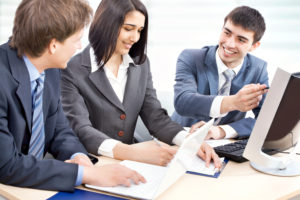 The Buy-Sell agreement is one of the most important legal documents a business can have to protect shareholders in the event of the death of a business owner/partner.
They must be planned ahead Whether you own a partnership or corporation, we can help you set up a buy-sell agreement while you are alive and capable of doing so. We will help you value your company and set up the right Buy-Sell Agreement to meet Canada Revenue Agency's (CRA's) standards.
Funding the Agreement We can determine if the company has the cash flow or a large amount of money available to fund the buy-out of the deceased or disabled owner. If not, life insurance can be used to fund a buy-sell agreement as it can pay a large amount of tax-free capital at the right timing of the death of a business owner/partner.
Making it legally binding We can meet with your lawyer and the buyers' lawyers. After it is drafted, all parties will review it to their satisfaction, and then sign it to make it legal. It is suggested that the life insurance be purchased first to ensure that one is insurable. Even where there is a medical problem, in most cases, there is an insurer willing to design a policy to suit the risk, based on the respective health of the individual.
---
Legal Copyright Warning: Adviceon® retains all legal rights and copyright to the contents of this article, libraries and all media on this website. The unauthorized reproduction or distribution of this copyrighted work is illegal. Criminal copyright infringement, including infringement without monetary gain, will be investigated and may result in legal liability. Content is for online use with the original Internet url used and is only for educational guidance, and is not to be edited or reposted elsewhere, which is tracked online via by Adviceon®. Please read Agreement of Copyright Use & Legal Notice which applies to all who use this website with content provisioned for educational purposes only by Adviceon®. Email editor@adviceon.com
Publisher's Copyright & Legal Use Disclaimer Replication is prohibited beyond the use of this website. The publisher does not guarantee the accuracy and will not be held liable in any way for any error, or omission, or any financial decision or purchase or use of a financial product, including investment or insurance products, and suggest that a professional advisor's counsel is sought, especially with regard to Segregated Funds which have investment risks. Not to be copied or republished as all rights are reserved by the publisher © Adviceon®
Website Disclaimer This website and information is provided for your general information only, and is not intended to provide specific personalized advice, including, without limitation, investment, insurance, financial, legal, accounting or tax advice; and any reference to facts and data provided are from various sources believed to be reliable, but we cannot guarantee they are complete or accurate; and it is intended primarily for Canadian residents only, and the information contained herein is subject to change without notice. References in this Web site to third party goods or services should not be regarded as an endorsement, offer or solicitation of these or any goods or services. Always consult an appropriate professional regarding your particular circumstances before making any financial decision.